2009 Report
Walden Biodiversity Days Overview, Organisms, Experts and Helpers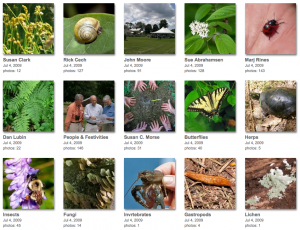 On July 4 1998 and again on July 4, 2009 (11 years later), a novel gatherings of 100 invited experts from 11 states in all branches of visible nature volunteered their expertise. All fungi, flora and fauna larger than a millimeter were noted in the field and/or with lab work thereafter. Roughly 2600 species were noted on these two days!
The 1998 event and the 2009 Biodiversity Days were gathered in honor of Harvard biologist Dr Edward O. Wilson who was active both days (the latter his 80th birthday summer). We also chose the Concord area due to the pioneering flora and fauna work of naturalist/philosopher Henry David Thoreau. Peter Alden, one of an amazing number of  Concord naturalists here today, invited the field experts and has coordinated the results.
All of this gang of field naturalists thanks the Walden Woods Project (especially Kathi Anderson, Matt Burne, Susan Frey and Juliet Trofi) and its supporters for sponsoring this year's event. A major supporter was the National Park Service. Nancy Nelson hosted a gathering at the Minute Man NHP in the Buttrick Garden followed by a private stroll to the Old North Bridge at sunset. After three weeks of rain the sun blessed our weekend, exactly as happened in 1998!
Peggy and Bill Brace hosted an open breakfast and hookup of experts and helpers overlooking the Concord River in Concord while Ken and Marilyn Harte hosted a Carlisle breakfast at the north edge of the Estabrook Woods.
Anna Winter and Neil Rasmussen hosted a wonderful luncheon with a welcome white tent and tables and chairs for all at the south edge of the Estabrook Woods. The evening 4th of July cookout under another huge white tent on the lawn below the Thoreau Institute of the Walden Woods Project was a great mingling event for all.
Highlights were a lawn full of colorful animal puppets from the Musketaquid Arts & Environment Program Earth Day Parades beforehand. The wonderful video program produced by Tom Jones honoring Ed Wilson with segments by Jane Goodall, Don Henley and Ed Begley, Jr. Not to mention the massively biodiverse birthday cake for Ed Wilson's 80th (and Peter Alden's 65th).
Field Reports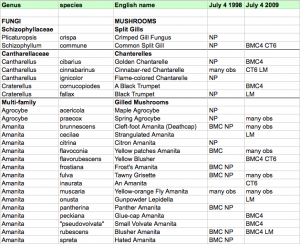 We have merged the results of the 1998 World's First Biodiversity Day along with the results of the results of the 2009 event in an online spreadsheet. This allows an insight into trends of what can be found here. A quick glance at the two columns will show some trends such as the continuing decline in native wild flowers and the sudden appearance of invasive Porcelainberry.
A more important factor was that July 4th is a tough date for many people who were with family or friends or booked to Yellowstone or the Galapagos. We were very pleased to welcome back dozens of alums from the 1998 event. In many difficult groups experts were present only in 1998 or only in 2009. By combining all that rare expertise gives a clearer picture of the current status of summertime detectability of Thoreau country. From this valuable baseline of data one could build something fun and useful.
The checklists are broken down into these categories accessible from menus at the bottom of the screen: Fungi (incl. slime molds), Lichens (incl. FW algae (which are about the only sub 1 mm species listed), Mosses (& liverworts), Ferns (& allies), Conifers, Woody Dicot Plants (trees, shrubs & some vines), Herbaceous Dicots, Monocots (grasses, sedges etc). For animal life the units are Misc. Invertebrates, Spiders (& ticks+mites), Most Insects, Butterflies, Moths, Fishes, Herps (amphibians & reptiles), Birds and Mammals.
The checklist has higher units of taxonomy (such as a selection of Class, Order, Family) listed above the actual species. The scientific name (Genus and species) is followed by an English name. English names are in evolution with work in progress for many groups. In many invertebrates and non-vascular plants a group-name or family name will appear with an A or An preceding that non-specific name. That usually means no English name has been proposed or thought about.
The next two columns are first the 1998 sightings followed by the 2009 sightings. If an entry has many obs listed, that means that it was noted by four or more field parties and space precludes listing all parties. If initials appear, those would be those of the main expert or at least the one reporter of the list to PeterAlden the compiler. We apologize for not being able to post all sightings and initials of all in party.
The initials are chiefly for verification of rarities and harder to find or identify species. They also provide a way to contact identifiers with potential queries. The term Carl. Means that it was noted by at least one of a dozen experts working in Carlisle, with the combined list organized by Ken Harte. The CT4 of 1998 and CT6 in 2009 refer to a special species "swat team" of experts who came up both years from Connecticut (a state that does an annual event).
---
Schedule for Walden Biodiversity Day II
Friday July 3rd
4-6:30 pm Early birds and out of towners welcome for informal dinner at Peter Alden's, 11 Riverside Ave., West Concord.
7-10 pm All in town Friday evening welcome for dessert, cider, beer and wine at the Buttrick Gardens beside the Minute Man NHP headquarters at 174 Liberty Street in Concord. Sundown walk to nearby Old North Bridge, returning through the fireflies to a moth light demonstration.
Notes: For directions to the addresses mentioned here please visit the Locations page. Participants unable to work Saturday or needing more time in the field are permitted to work on Friday.

Saturday July 4th
5-7 am Early field work on your own for birders etc.
7-9:30 am Open breakfast at home of Peggy and Bill Brace, 49 Liberty St., in Concord, just south of Old North Bridge.
Organize teams for morning expeditions.
7-9 am Carlisle teams breakfast at 64 Estabrook Road in southern Carlisle.
8-12 noon Morning expeditions in field.
12 Noon – 2 pm Lunch for all Concord, Lincoln and Carlisle field workers and supporters and photographers with Edward O. Wilson. Home of Anna and Neil Rasmussen; 393 Estabrook Road, Concord just north of the Old North Bridge. Organize teams for afternoon expeditions.
2-6 pm Afternoon expeditions in field.
6-9 pm Grand Fourth of July Cookout at Thoreau Institute (Walden Woods Project headquarters), 44 Baker Farm Road, Lincoln honoring Edward O. Wilson. That is the first left (a private drive) beyond Walden Pond on Route 126 leaving Concord southwards. It will be under a tent with a surprise video tribute and we will hear from many experts on highlights of their day afield. Please come as you are – field attire is expected!
---
Locations for Walden Biodiversity Day II Events
Evening kick-off, 7/3, 7:00 to 10:00 PM at MMNHP HQ, 174 Liberty St, Concord (near Liberty and Lowell Rd.) View Map
Breakfast on 7/4, 7 to 9:30 AM, 49 Liberty St., Concord View Map
Lunch on 7/4, 12 – 2 PM, 393 Estabrook Rd, Concord (near Estabrook Rd and Barnes's Hill Rd) last house on left. View Map
Cookout at the Walden Woods Project's Thoreau Institute 7/4, 6 – 9 PM, 44 Baker Farm Rd., Lincoln (near Concord Rd and Baker Bridge Rd. – beware speed bumps on drive). View Map
Friday evening, Peter Alden's: 11 Riverside Ave, Concord (near Derby and Main) View Map
Carlisle group: 64 Estabrook Road, Carlisle (near Russell Street and Bellow's Hill Rd (which leads into Estabrook Rd.) View Map
Field work locations include (partial list):
Walden Pond State Reservation (a BU dive team will go down 100 feet).
Walden Woods from the Thoreau Institute (teams may park here during day, parking could be full at Walden Pond).
Great Meadows National Wildlife Refuge
Concord, Sudbury and Assabet Rivers (canoe rentals at South Street Boat House)
Estabrook Woods (access from lunch site, Monument St. at Punkatasset, Hugh Cargill Rd.)
Minute Man National Historical Park (Old North Bridge area, several fine sites along Rte 2A incl. a vernal pool)
Drumlin Farm Wildlife Sanctuary, Lincoln (great mix of farm and wild habitats at Mass. Audubon's HQ)
Nine Acre Corner, south Concord (mix of fields and grasslands with wetlands)
Secret Great Blue Heron colony south of White Pond, Concord (60 active nests at great new beaver pond)